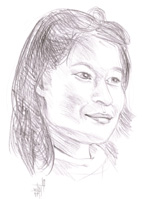 *portrait by Al Tyler,
featured artist in The Chicago Art Scene.
Ivy Sundell's three books, The Chicago Art Scene, Art Scene: Chicago 2000 and Living Artists, aim to bring the enjoyment of fine visual art to the public. She has given presentations, such as "How to Break into The Real World - Practical Experiences" to students and alumni at the School of the Art Institute of Chicago, and "Appreciation of Living Artists" to middle school students.
The new series, Visions of Life and Visions of Life 2, are attempts to bring writers and artists together and expand the horizon of both readers and art lovers. "
Notes
"In the past, each book cycle includes a year spent on producing the book and a year on promoting the book. Somewhere along the line, I realized that the book is not the end of the project. Rather it's a tool that can be used by featured artists to promote themselves, and that I can use to bring living artists to the public. The titles have led to group invitational exhibits of featured artists at galleries and museums."
"Even though I have been educated indirectly about various forms of art and the art world by mingling with artists, I still consider myself a part of the general public. To enable the public to enrich their lives with art much as I have enriched mine, I plan to hold library discussions and arrange for public exhibits. "
About Crow Woods
/
Privacy Policy
/
Contact Us
© 2005-2021 crowwoodspublishing.com. All rights to the images are retained by the respective artists. All rights reserved.